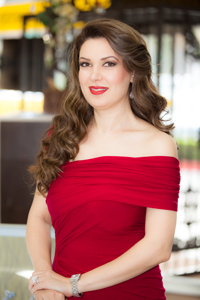 Amy Astaraee, is the owner of Brax Jewelers in Newport Beach. She started her company from a vision her father had, Unfortunately, Amy's father passed away when she was a child and his dream didn't happen. When Amy was in her twenties, she became determined to fulfill her dad's dream of having a business that would impact others for the good and carry on his legacy and name. In 2005, she opened her jewelry store.
Amy is also a mom of two daughters. Being a mom has inspired Amy to help other children around the world so through her jewelry company, she helps many charities and has become a strong humanitarian.
Amy has a bachelor's degree in electrical engineering and A.J.P. (Accredited Jewelry Professional) degree from GIA (Gemological Institute of America).
In her spare time, Amy enjoys oil painting, playing the piano, and swimming. She looks forward to helping you find the perfect jewelry piece for yourself or that special someone.