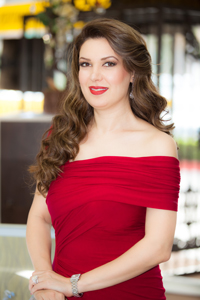 Amy Astaraee, the founder of Brax Jewelers, received her bachelor's degree in electrical engineering, but her passion for artistry and design further motivated her to continue her education and become an A.J.P. (Accredited Jewelry Professional) where she acquired her degree from GIA (Gemological Institute of America).
When opening her store in 2005, in Orange County, Amy has focused on creating meaningful relationships with her clients. Her strong background in art resulted in her creating her very own jewelry line, Amy A. Design, which focuses on custom engagement rings. Amy designed the store herself, giving the boutique it's calm, modern aesthetic. It has become a place clients can come relax while they browse all of the beautiful jewelry in a peaceful atmosphere.
With being Tier 1 rated with Jewelers Board of Trade, (J.B.T), Amy has become known as one of the most trusted business owners in the jewelry industry. Amy is also a member of IJO (Independent Jewelers Organization), an organization which only accepts jewelers with the highest ethical standards and superior professional integrity. She is also a member of the Preffered Jewelers International, making Brax Jewelers a part of an ever growing and expanding elite nationwide network of over 157 independent jewelers. This means that any purchases made at Brax Jewelers are included in a Lifetime Nationwide Warranty program.
Being a mother of two has given her a passion children's rights and awareness. Amy has become very much involved with charities that raise awareness for children's health and education. Throughout the years she have worked with organizations like the Children's Hospital, International Society for Children with Cancer, CHILD International, and Global Genes.
Amy has truly enjoyed creating lifelong relationships with her customers. She values these relationships and is thankful for all the love and support she has received through the years. Amy is looking forward to meeting you helping all your jewelry dreams come true.