Posted on Thursday, February 22nd, 2018 at 5:25 pm by Amy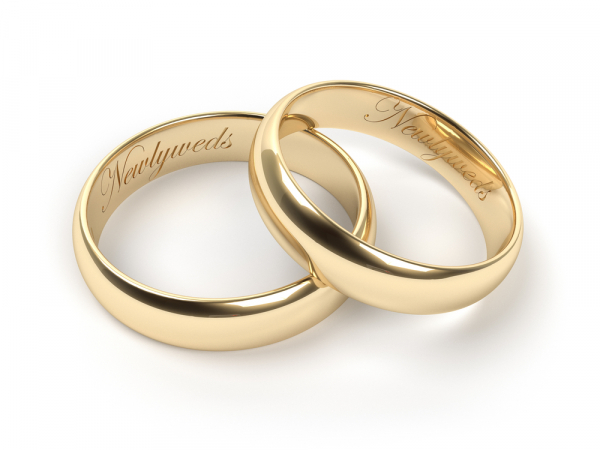 Engraving is the practice of incising a design onto a hard, usually flat surface by cutting grooves into it. This results in a beautifully decorated object in itself where anyone can express their innermost emotion through their jewelry. Whether it be be a initials from a loved one or a family crest on a ring, engraving is a form of art that requires great skill. There are two kinds of engraving, machine and hand. Machine engraving is a tracing technique and is done by less skilled artisans using an engraving machine. Hand engraving is an art that takes years of learning, practice and a sense of art. Good hand engravers are hard to find but the work done takes considerably more time than a machine.
Major Tip: When writing instructions on any engraving job, write is as you want it.
MACHINE ENGRAVING
There are 4 styles only available to be engraved on the outside of an object. We can engrave a single line block on the inside of a ring. We CANNOT machine engrave bangle bracelets for which would have to be hand engraved. A commonly asked question is about the amount of letters that can be engraved into a wedding band. The answer to that is it all depends on the ring size which can ultimately vary up to 31 spaces.
Pricing
We have a minimum charge of $25 for up to 15 letters and each letter after that is an additional $1.25.
HAND ENGRAVING
Many types of style are available for hand engraving since its done with precision where the strokes are usually deeper, wider, and more beautiful.
Inside of Rings, Bracelets, & Flat Items
For the inside of rings, bracelets, and flat items the minimum charge is $75 and is up to eight letters and each letter after that $10.
Interlocking Monograms
For interlocking monograms the pricing depends on the size of the job but for a one-letter minimum charge is $125. For a two-letter minimum charge is $135 and for a three-letter minimum charge is $145.
Family Crests
Engraving family crests requires more time and skill because it engraved inside of the metal and in reverse in which this is the most costly method. The pricing depends on the type of ring it is, so if it is on a metal ring the cost is $995 and for a gemstone ring it costs about $1050.
If you have anymore questions you can visit our location at 3601 Jamboree Rd, Set 15A, Newport Beach, CA 92660 or call us at (949)-250-9949