Ask Amy! Dina & Dan's Engagement Ring
Ask Amy! Dina & Dan's Engagement Ring
Posted on Monday, August 10th, 2015 at 5:33 pm by Amy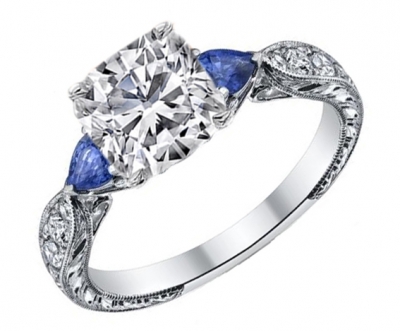 Dear Amy;
This past weekend my husband and I went to a wonderful wedding at a country club over in Newport Beach. It was a beautiful affair, serving an assortment of foods fit for a king (and queen). Plus, the band wasn't real loud, which was really amazing now a days. The bride was just a living doll, her dress had a 6-foot train and her hair was "just right".
During the evening I wasn't able to get up close enough to see her ring, which I understand Brax Jewelers made. Later in the night everyone got to dance to these new fangled dances and that's when I saw her ring. WOW! Do you remember the dance they do at weddings? Not "hava na gilah", but the other one. I believe it's called the "YMCA". Anyway, when the bride raised her hands to make the "Y" and then the "C" is when I got a good glimpse.
Her ring has some type of purplish stones in it with a large round diamond. Jeezeee, was it a knock out. What metal was it made from and what were those stones?
Sincerely Yours
 Cathy Carson
Dear Cathy
I'm glad you had a great time at Dina's wedding. Yes indeedy, it's a wonderful ring. Dina's ring is made from Platinum, the most beautiful of the white metals. Platinum had become really poplar these days, and for good reason. It doesn't tarnish, maintains it's beauty and enhances the way a diamond sparkles in the light.
The side stones in Dina's ring are triangular shaped Tanzanites. They capture the richness of the color purple in a way no other stone can. If a diamond was purple, this is what it would look like. We hand made the mounting and she just loves it. The center stone is a round diamond, selected by her and her now husband, Dan. In fact, she love her ring so much, she refuses to wear a wedding ring next to it, says it takes away from the beauty of her engagement ring. So I guess she'll keep everyone wondering if she ever got married by only wearing the one ring.
You know, Cathy, you don't have to get married to have us make a ring like Dina's for you. You just have to have a husband that loves you. Is that you?
Sincerely
Amy Astaraee