Celebrity Engagement Rings by Carat Size
Celebrity Engagement Rings by Carat Size
Posted on Thursday, July 5th, 2018 at 5:41 pm by Amy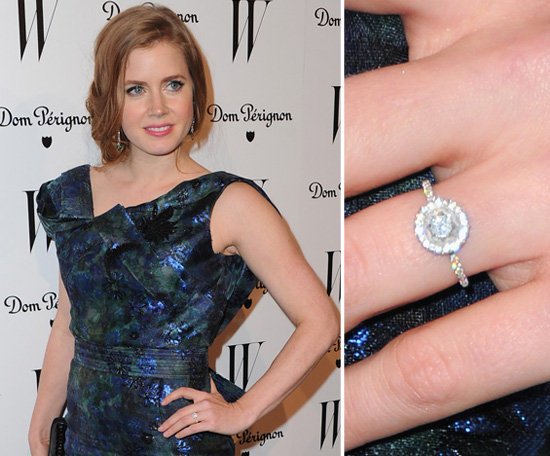 1 carat
Amy Adams (who married her longtime love, Darren Le Gallo, in 2015) wears her 1-carat diamond halo engagement ring stacked alongside pave-studded wedding bands crafted from yellow and rose gold.

2 carats
Witney Carson's high school sweetheart, Carson Mcallister, presented the Dancing With the Stars pro with a 2-carat diamond engagement ring featuring an oval-shaped center stone with a diamond halo, and a pave-accented rose gold band in 2015.

3 carats
Katherine Heigl said "Yes!" to a 3-carat pear-shaped diamond engagement ring from Josh Kelley (whom she tied the knot with in 2007).

4 carats
Reese Witherspoon wears her 4-carat Ashoka diamond ring set in platinum (a gift from now-husband Jim Toth in 2011) stacked alongside three pave-studded bands — one for each of her children.

5 carats
Powerhouse vocalist and The Voice judge Kelly Clarkson, wears a 5-carat canary yellow diamond engagement ring.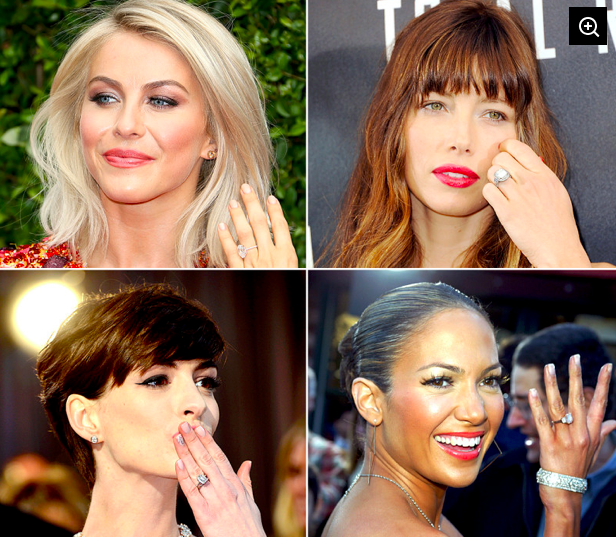 6 carats
Jennifer Lopez famously received a 6-carat pink diamond Harry Winston ring from Ben Affleck back in 2002, while Jessica Biel was gifted a 6-carat square-cut stunner from Justin Timberlake in 2011. Anne Hathaway's husband, Adam Shulman, proposed with a 6-carat diamond and platinum engagement ring designed by Kwiat, also in 2011, and in 2015, Julianne Hough showed off a 6-carat oval engagement ring with a pave-accented band from her hockey player beau, Brooks Laich.

7 carats
George Clooney gave his lawyer love, Amal Alamuddin, a 7-carat emerald-cut stunner in 2014, five months before their Venetian nuptials.

8 carats
Before the pair "consciously uncoupled" in 2014, Gwyneth Paltrow rocked an 8-carat Asscher-cut diamond ring with a subtle diamond halo and pave-sprinkled band from her husband of 12 years, Coldplay frontman Chris Martin.

10 carats
Friends alum received her 10-carat rose-cut solitaire from now-husband Justin Theroux in 2012,

12 carats
Fit for royalty! Kate Middleton received a 12-carat sapphire set in 18-carat white gold from Prince William. The ring belonged to his late mother, Princess Diana.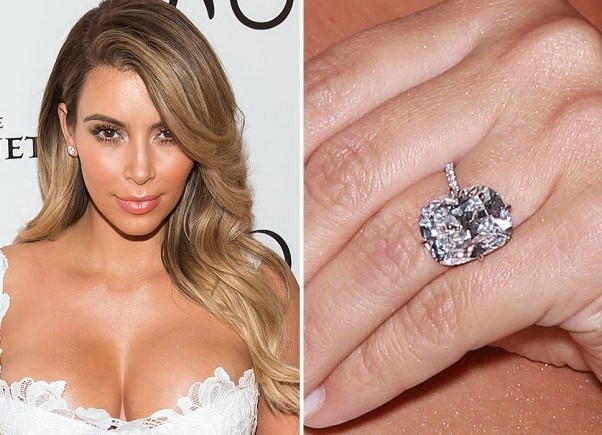 15 carats
Kim Kardashian received her Lorraine Schwartz-designed ring from Kanye West in 2013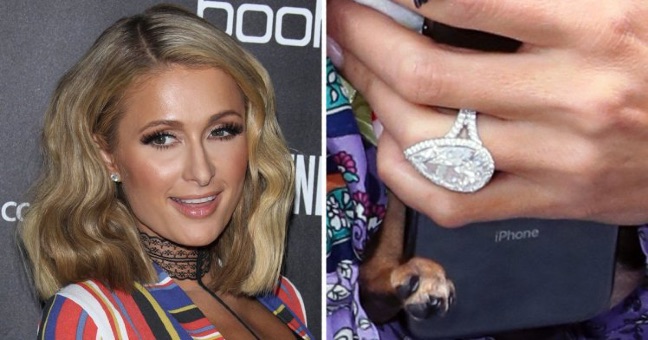 20 carats
Paris Hilton and boyfriend, Chris Zylka, got engaged in January 2017. Zylka presented his future bride-to-be with a 20-carat pear-shaped ring, while in Aspen, Colorado during a ski trip.

33 carats
Here's Elizabeth Taylor's 33-carat, Asscher-cut Krupp diamond ring from Richard Burton. Technically, it was not an engagement ring, but a gift Burton bought the violet-eyed beauty during their marriage. Nevertheless, the actress wore the eye-popping bling so often that when she died, it was renamed the "Elizabeth Taylor Diamond.