Come Meet Santa!
Come Meet Santa!
Posted on Tuesday, December 6th, 2016 at 6:30 pm by Amy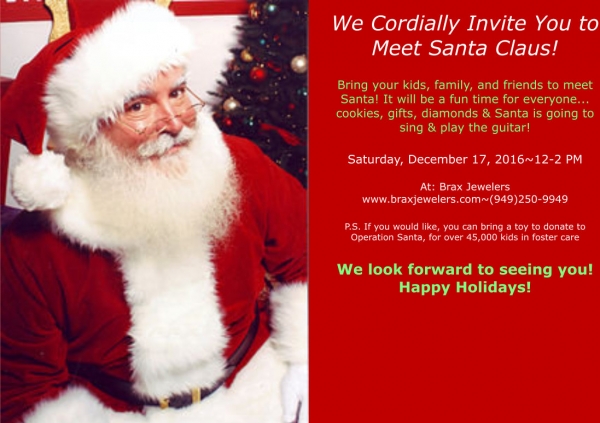 We cordially invite you to Meet Santa Claus!
Bring your kids and invite your family, friends, and neighbors too! It's going to be a lot of fun...there will be diamonds, cookies & Santa will sing & play his guitar!
If you would like you can bring a toy to donate to Operation Santa Claus. This is a program the Orange County Gov. does each December, to hand out toys to over 45,000 children in foster care.
We look forward to seeing you! Happy Holidays!
December 17, 2016
Saturday 12-2 p.m.
At: Brax Jewelers
3601 Jamboree Road
Suite 15A
Newport Beach, CA 92660

(949)250-9949 ~ amy@braxjewelers.com ~ www.braxjewelers.com